April 15, 2015: Tojinbo, Five Lakes of Mikata, Konbu Kan
These are the lacquered doors to the elevators at the Kanazawa Tokyu Hotel. I'm so glad that Sweetie reminded me to take a picture of them as we were leaving in the morning.
Our first stop of the day was Tojinbo, 70-foot high cliffs in northern Fukui along the Sea of Japan.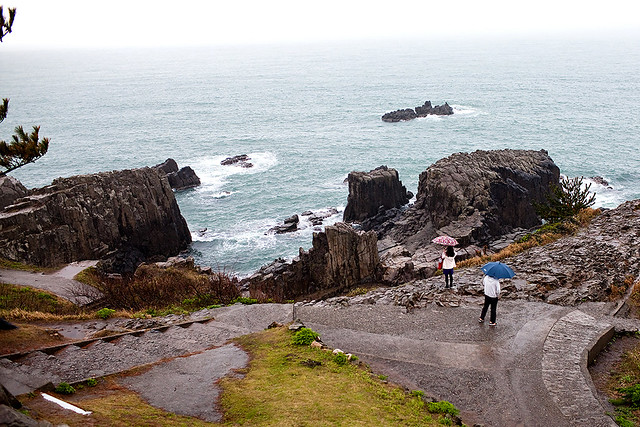 These cliffs are supposedly a popular site for committing suicide.
I think you can't tell from these pictures, but it was pouring, and at one point my umbrella blew open three times while I was trying to take pictures.
I quickly took my photos and ran into shelter.
Next stop was Konbu Kan, a large shop where all things related to konbu were sold.
A lot of sampling was to be had there.
After Konbu Kon we went to pick up lunch.
Yummm!! Wish I could have some of this right now.
Hmmmmm . . . let's see . . . what time were we supposed to be back at the bus?
BINGO!!
After lunch we headed to the town of Wakasa where we rode a chairlift up Mount Baijo to view the Five Lakes of Mikasa.
The green rock below says "Koibito no" (Lover's), the reddish rock says "Seichi" (Holy Place), and the small grey rock on the left says "Chikai no Kagi" (Key to Oath). The plaque on the reddish rock says in English: "Yumi Katsura Lover's Sanctuary" Here I declare this land as "Lover's Sanctuary" to impart the joy and the magic of encounters, blissful marriages, and raising a happy home. I send my blessings to your encounters and wish you a wonderful future. Bridal Mother (signed) Katsura Yumi SINCE 2006. I googled "Yumi Katsura". She designs wedding gowns. Beauuuutiful wedding gowns. You can check them out here.
You can purchase a magical "vow lock" at the mountain top. Your
vows will remain eternally at the mountain top within the lock.
The key to the lock comes with an attached card that you can write a note on. You either keep the key/note or throw it over the mountain. Not sure. I didn't quite get that part. I wasn't paying attention . . . you know me . . .
The rose garden is normally in bloom from around May 20 to June 20. We were a bit too early.
I think this sign is telling us that we can see three of the five lakes from here.
Going down.
I took some photos while on the bus ride to our next hotel. Usually I'm dozing, but I stayed up this time. Enjoy the view of rural Japan.
Nearing our hotel, Sweetie took this photo from our moving bus with her iPhone. I think it's pretty amazing that she got the shot.
We stayed at the Miyazu Royal Hotel. This is the view from our room.
We had a Japanese dinner. The plating was so beautiful.
After dinner me and Sweetie decided to go check out the onsen. We did have several chances to try the onsens at previous hotels, but we had always managed to find some excuse not to go. But Sweetie had yet to try onsen bathing and time was running short, so we figured now was as good a time as any.
We were greeted with an "Irashaimase (welcome)!" by the friendly attendant at the entrance to the women's section. We timidly made our way to an area where we were to leave our clothes. We put our house slippers into little cubbyholes. We could see a glass wall. Still clothed, we approached it. We could see a mass of naked bodies in various stages of sitting, washing, rinsing, soaking, etc.
Me: OMG, it's so bright.
Sweetie: This is not what I expected. I thought it would be dark and steamy.
Me: It's not steamy at all. And i
t's so bright.
Sweetie: This is not what I expected.
Me: So you wanna go . . .
Sweetie: Yup.
Attendant: Arigatooo-gozaimasu!!!